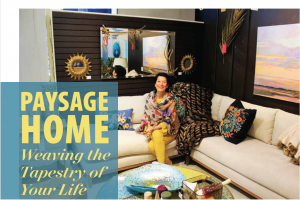 sponsor of the month
By Sherri Robinson
Before we introduce you to PaysageHome, let us set the mood, deliver a bit of ambiance. Take a moment, close your eyes and open your imagination; now, listen deeply, allow the incomparable voice of Édith Piaf, or Marlene Dietrich, or Madeleine Peyrouxto invade your soul with the haunting notes of "LaVieen Rose"…let it linger. Now, you are prepared to learn about Paysage Home, the unparalleled designers of the mise en scène to weave the tapestry of your life.
To understand Paysage, you must understand Gigi Sireyjol-Hors- ley, her owner and lead interior designer. Gigi is like no other,  she brings an international, old-world charm and culture that can only be earned in experience and cultivated by seeing the world through the unfiltered lens of possibilité. For Gigi and her magnificent team at Paysage, interior design is the eclectically tasteful unique expression of the soul of the transformed space's owner.
Born in one of the world's most interesting and exciting cities and the embodiment of the original Byzantine bazaar, Casablanca, Morocco, Gigi returned to the South of France in her early adolescence. Her mother, an avid connoisseur of beautiful people, places and things taught Gigi a reverence for beauty, a reverence she lends her clientele every day.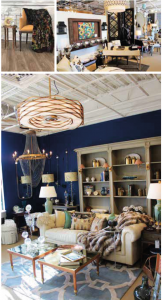 On weekend soirees with her mother to cosmopolitan art and antique venues, Gigi learned what her mother's credo, "touch with your eyes," although it sounds more poignant in French, "touché avectes yeux," meant. On those treasured weekends, Gigi's mother was instructing her young daughter to look with appreciation, with awe; to imagine where something had been, where it might go; to, within its texture, shape or patina, discover and learn its history, its meaning and its intrinsic value. These quests for hidden treasures with her mother are the foundation of Gigi's discerning eye fordesign.
Her mother taught Gigi the origin of elegance, the connectivity of harmonious association. She taught her all things where linked: fashion, art de la table, exquisite tastes and the energy of living space. Gigi understands and practices delivering that harmonious association to every Paysage client, creating the whole of essence that surpasses the sum of its parts. Gigi is compelled to design and create, an honored gift of love and passion bestowed upon her by her mother.
Although her mother began Gigi on the journey of her life's work, Gigi's embracing her life experiences have honed each lesson. Today, she seamlessly discovers what her client values and treasures; then, manifest the perfect complements to infuse within their space. Building upon a tapestry of timeless French elegance using linens, silks, wood, stone, leather or metal, Gigi enjoys bringing an unexpected boldness to an interior. She developed a signature to her interior design by introducing something custom-designed, locally sourced and infinitely artisan to each project. She often fuses such a piece, a bold newness, with antique pieces to achieve her goal of eclectic aesthetic wholeness using the sum of the parts of her design to transcend any particular period and accentuate her client's uniqueness.

Gigi Sireyjol-Horsley and the Paysage team confidently thread metaphoric chenille needles to weave the tapestry of life. They render eclectic elegance with mesmerizing transformations or with just a single piece – that perfect piece -giving definition to your environ. There is literally something for everyone, well everyone that appreciates beauty, at Paysage in Wilmington and in their newest location, Raleigh's North Hills, something extraordinary to fit any need, budget or desire.
Paysage Home offers curated home décor and interior design services. Whether you are in the process of a total redesign or are just looking for a subtle change, Paysage is the perfect place to find your inspiration and to discover décor that defines your style. It is impossible to accurately or completely describe the eclectic eccentrics to be discovered at Paysage, you simply must see for yourself. To get a glimpse of the menagerie of merchandise available and learn the scope of design services, please visit https://paysage.com/. However, we strongly recommend making an in-person visit to truly see all that is possible.
Paysage Raleigh is located at North Hills in Raleigh, situated at 4151 Main at North Hills Street, Suite 120  and open from 10 a.m. to 6 p.m., Monday – Paysage Wilmington is located in Lumina Station in Wilmington, situated at 1908 Eastwood Road andopenfrom10a.m.–6p.m.,Monday–Saturday.
Paysage Home, helping you weave the tapestry of your life with deliberate design rendering ethereal elegance.