The Beach Within
Water is the story of Richard Black's life —
and the art of his Figure Eight Island home
By Ashley Wahl
Richard Black is sitting inside what feels like a very different beach house from the one he built at Figure Eight Island seventeen years ago.
"Virtually every fabric had sea life on it," says Black, a former yacht broker and lifelong outdoorsman whose laid-back demeanor makes it easy to imagine him exploring the surrounding marshes, content among the textures and colors of a coastal landscape.
Which is exactly what Paysage Home owner and designer Gigi Sireyjol-Horsley had in mind when she began working with Black to transform his 7,500-square-foot home into a cleaner, more polished version of itself – the beachgrass, the pastel sunsets, the eternal dance of water and light.
"The beach is already out there," says Gigi. "You don't need to put it in here." And so, drawing from the cool, earthy palette just beyond the patio doors, she created a space that is every bit as natural and soothing as the uninterrupted view of the marsh. The effect is masterful. Subtle textures and solid colors complement the view beyond the window much in the way that a new harmony brightens a familiar melody. The flow is so seamless that it feels like a continuum.
But the first thing you will notice upon entering Richard Black 's home is his exquisite art collection, starting with the hand blown glass chandelier in the foyer.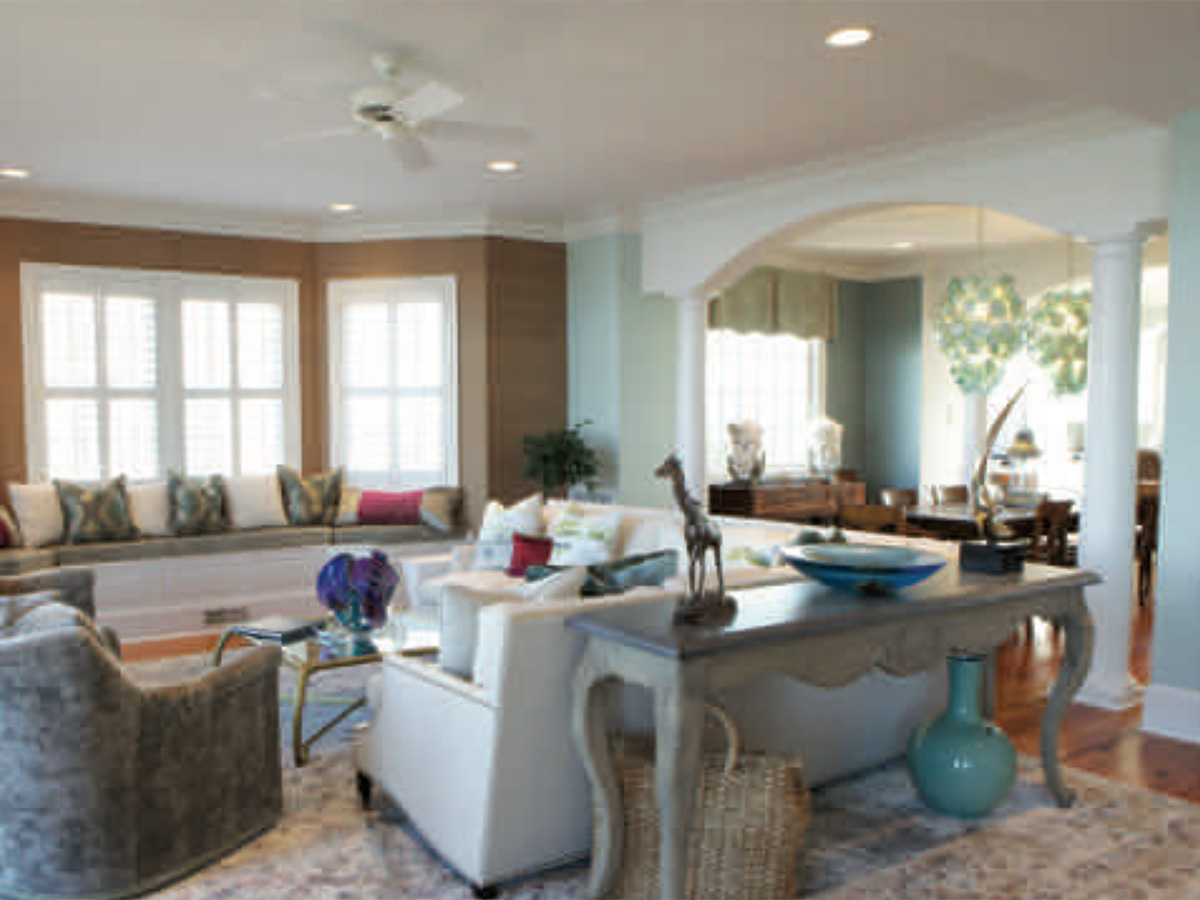 "It's not a Chihuly," says Black, although the piece does look like it might have come from the famous sculptor's colorful Seaform series (and, yes, there are Chihuly works displayed throughout). "You'll notice I love glass." In fact, many of the rooms were designed around it.
"You will see pieces in this house that you will never see again," says Gigi, who started working with Black one year ago by helping him find replacements for the two living room rugs that were, as the homeowner puts it, "just covering up the floor."
Black gestures toward the lounging Retrievers, Red and R.J. (short for Red, Jr.), adding that the old rugs had been not so artfully "accented" by the dogs.
Gigi recalls feeling instantly struck by Black's art collection, which includes three Chihuly works, a Warhol, a Picasso pen and ink, a series of Claude Howell first prints, and a Victor Vasarely painting.
The interior was dated, says Gigi, and in some cases, Black's extensive art collection distracted from the surrounding landscape. Or maybe it was the other way around. Regardless, the house lacked a sense of balance with its environment and the homeowner's authentic style.
It was time for an upgrade.
"When I start a project," says the designer, her French accent as charming as her smiling brown eyes, "I usually try to find the thing that is going to create the 'wow.'"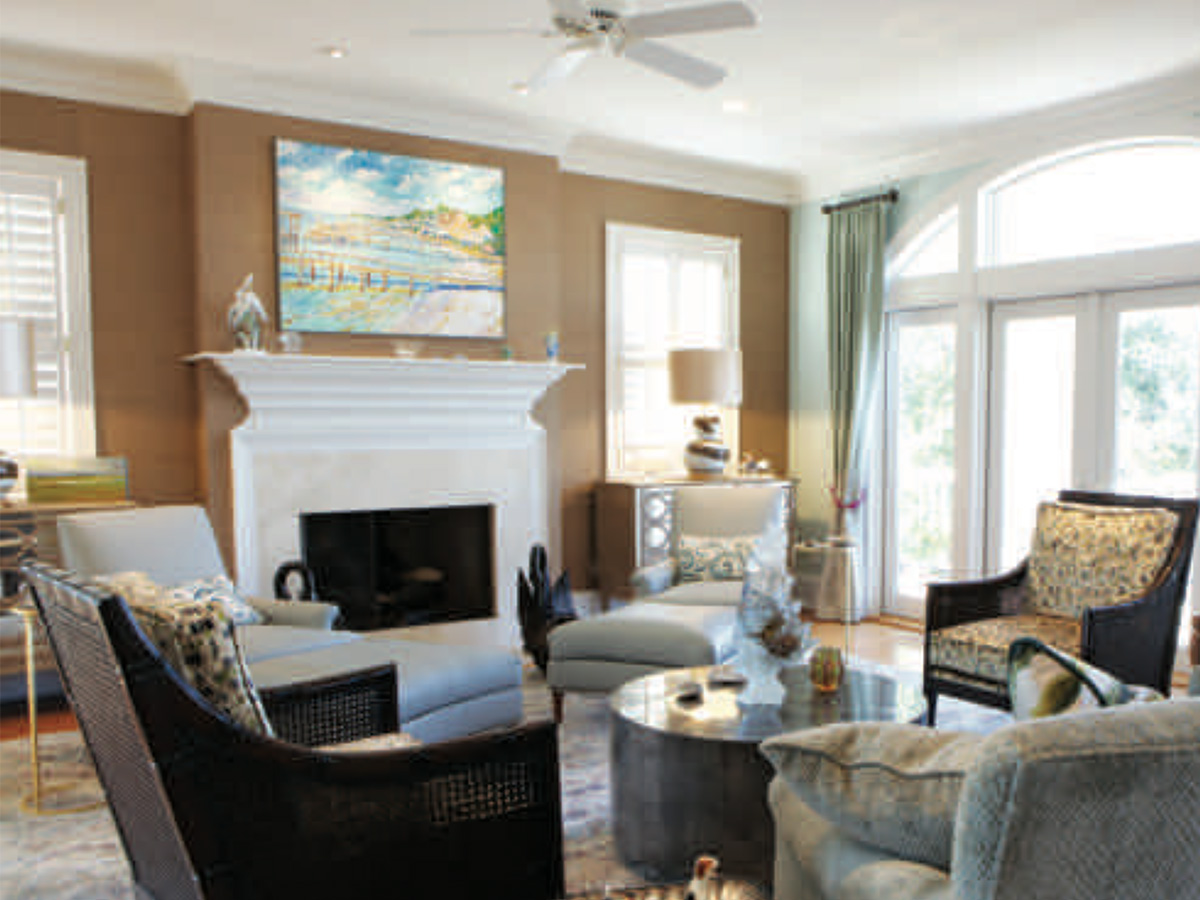 But Richard Black already had the 'wow' in spades.
"The challenge was to work around his art," she says — to create the perfect backdrop for it. "It's a gift when you walk into a house like this and get to play at this level. I'm very fortunate to have had that chance."
She refers to the entire process as a beautiful collaboration.
"Richard had a lot of good ideas," says Gigi. "It was incredible to work with him."
From the Chihuly sea fans to the nautical-themed paintings that sing against gallery-like walls, Black's art offers a glimpse into his heart and soul: water is the story of his life.
Born in California, Black spent his boyhood summers sailing with his sport fishing grandfather at Newport Beach. In high school, he began working at a stained glass studio, where he spent a decade developing the craft.
"That's where I developed my love of glass," says Richard, who is seated in one of the contemporary swivel club chairs in the casual half of the living room. Neutral-colored sofa and bay window cushions are accented by pillows that echo the greens and yellows of the marsh, drawing the eyes instead to the lustrous purple glasswork on the center of the glass-top coffee table.
A Greensboro girl (ex-wife) brought Black to North Carolina in 1993, and the Figure Eight Island beach house materialized some five years later.
"When I built this house, I wanted my kids to become water people too," says Black, explaining why he's never had a TV on display in the main living area. "I don't want it to be the focal point."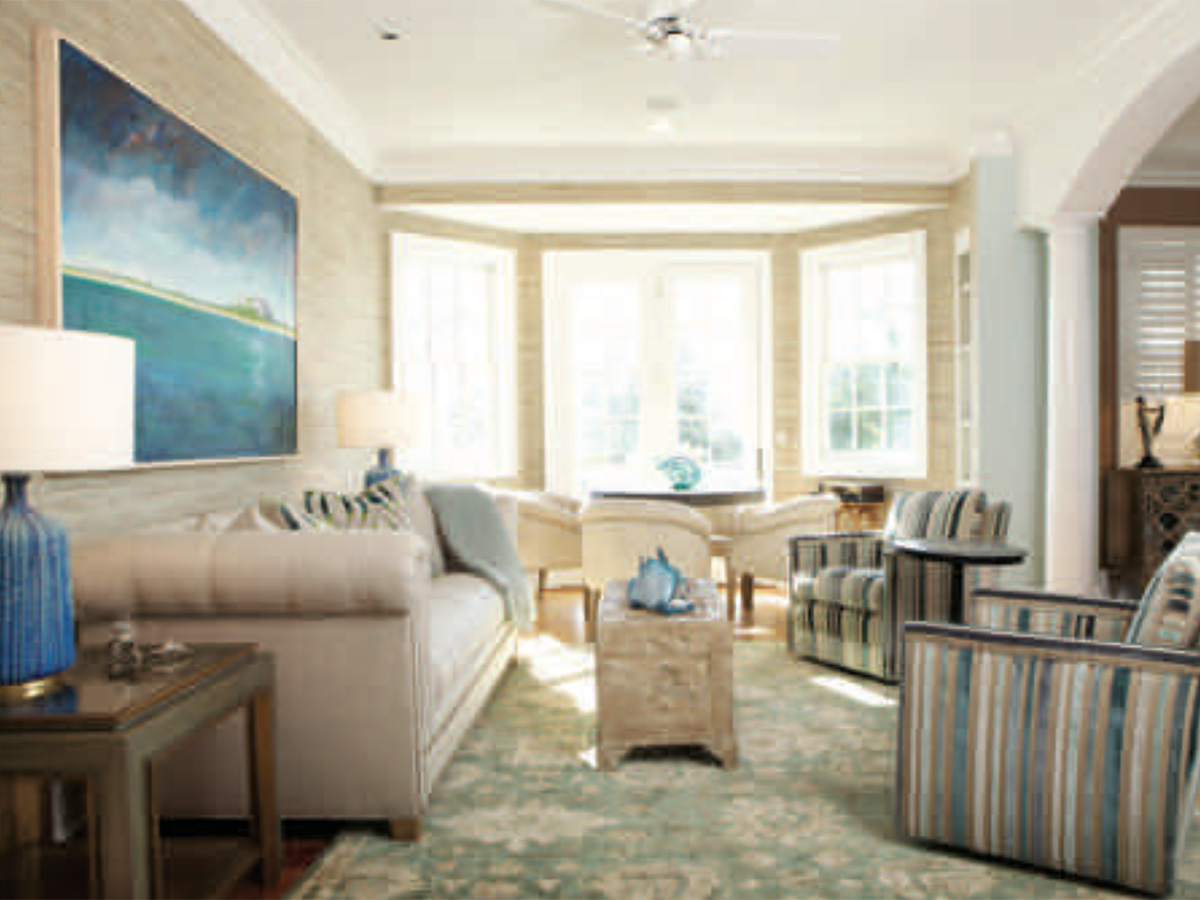 He picks up a framed photograph from a long-ago summer and smiles.
"This would be one of my greater accomplishments," he says, turning the photo toward his guest. "My three children and my brother's four children, all water skiing behind my little Mako. Seven at a time. Ninety horsepower."
The kids — now ages 23, 21 and 20 — were all competent boaters by the time they reached middle school. And like Black, they still love boating and fishing.
"That's kind of who I am," says Black.
While Gigi collaborated with Black to create an ambiance that accurately reflects his easygoing personality, she drew inspiration from a photo book
that showcases Black's late father's Pacific Coast Highway home.
"I was not trying to replicate anything," says Gigi. "I was just trying to get a sense of where we wanted to go."
Mission accomplished.
In the den, debatably the most dramatic room on the main floor, a Tibetan chest that belonged to Black's father displays a glass sea fan trimmed in the same blue found in the massive oceanscape painting mounted on the grasscloth wallpaper above the sofa.
Of course, the dining room's quite a showstopper too.
"Black's art offers a glimpse into his heart and soul: water is the story of his life."
"It was a big challenge for me to find the perfect chandelier," says Gigi of the aqua glass Regina-Andrews fixture hanging elegantly above the
antique dining table.
Then there's the slate blue Phillip Jeffries newsprint wallpaper in the kitchen.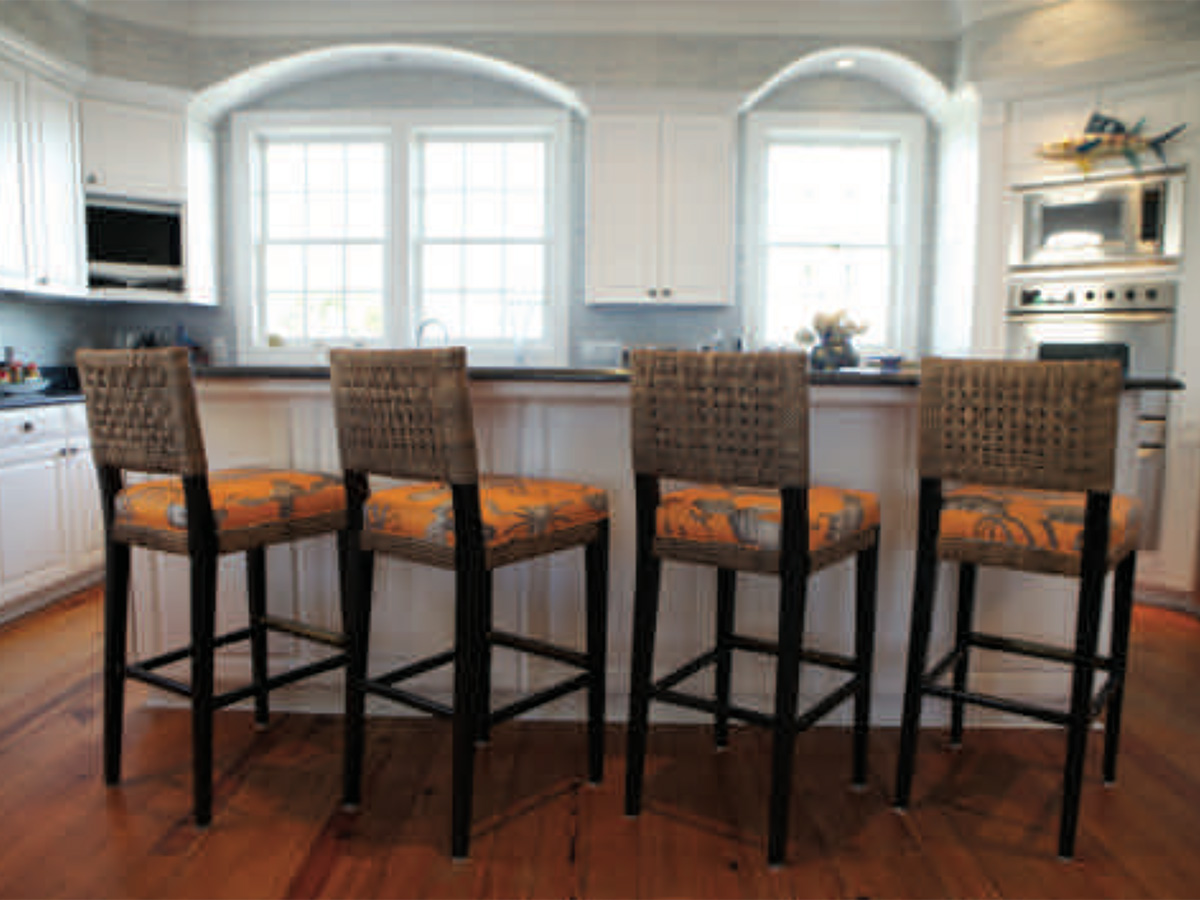 And the stair risers, painted blue to draw eyes up toward the Vasarely painting on the second floor.
Ditto the master suite, where soothing lavender walls and elegant wing chairs with rich purple leather backing complement the massive oak
armoire that belonged to Black's father.
Gigi didn't touch the third-floor pinewood 'man room' festooned with waterfowl decoys and black-and-white photos of Black's grandfather.
Black casually mentions that his grandpa fished with the likes of Zane Grey and Ernest Hemingway. But then again, everything about Black is
casual — even if he does like nice things.
As Black flips through the photo book of his father's home, artwork and sculptures, he comments on how the house was a perfect reflection of
his dad.
"What makes me happy," says Gigi, "is when you walk into this house… it looks like Richard."