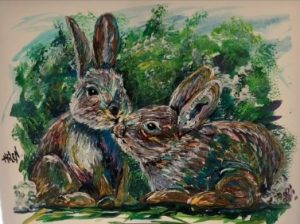 Paysage Home has been on the front scene of home decor and interior design in Wilmington for over 15 years now! It is not a surprise that Paysage has always been engaged in the community. "Giving back and supporting locals have been part of our inner values since the beginning' says Gigi Horsley, owner of Paysage Home. "Over the years, we kept asking ourselves "what can we do to help the community?" Today the question resonates even more!
"What can we do to support people affected by Covid19?". We decided to show our support to our angels, the key persons who are working hard to save lives on the front lines at the New Hanover Hospital, here in Wilmington.
We asked our dear artist friend Helen Dixon, longtime Wilmington resident, to paint an Easter theme piece that we could auction off at $300 to start and which 50% of the proceeds will go directly to Wilmington's New Hanover Hospital. Helen was right on board and very excited to join in the effort! She even recorded herself painting the two adorable bunnies kissing each other. The video of "the artist in action"  was posted on our Facebook and Instagram pages on 04/01/20 and received a lot of interest! Our followers have been very responsive, we have already reached $1000 and the auction is still open. "it is so heart-lifting to see the community join together to support the ones who are giving themselves to saving lives. We are very proud to participate in our way to the sanitary crisis effort".
Helen is already working hard to create a new painting to support the Hospital in Raleigh, NC where our second location is. Stay tuned for an update. And don't forget to follow us on Instagram and Facebook @paysagehome and @paysageatnorthhills.