Curate Copper in Your Home for the Holidays
Also featured on The Shake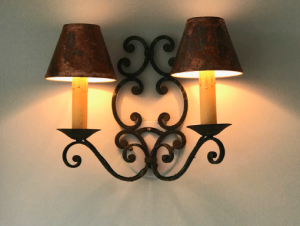 1) Want to Add a Festive Touch to a Room?
Change the shades of your sconces. You can buy inexpensive
paper shades and spray them with copper.
2) Apply Copper on an Accent Wall
Accent wallpaper is great when you want to test out a new
color. It can leave your guests in awe and lusting over your
home design. Bring a different texture and light by doing a
copper wall and you will give a second life to your artwork.
3) Use a Copper Christmas Tree Topper and Copper Garland
With holidays just around the corner, it is time to start thinking
about what you want your colors for your Christmas tree to be
this year. Test out copper! Purchase a copper Christmas tree
topper and/or garland (you can purchase your copper toppers
and garland from Paysage!) and you'll be amazed by how
beautiful it is with the evergreen colors of the Christmas tree.
4) Copper and White Flowers
Copper is an elegant complement to white. Use it in flower
arrangements. The rustic look of a copper vase is a great
contrast and enhance the beauty of white flowers. Don't
hesitate to add greenery sprayed with copper, or add one of
our Paysage copper garlands to your flower arrangement.
5) Use Copper in Your Tree
Ornaments are easily the best way to use different colors for
the holidays. No matter the size, color or shape, they bring
together your holiday home decor. Copper Christmas
ornaments will add more liveliness to a tree. Mix with clear
glass ornaments and it's magic!